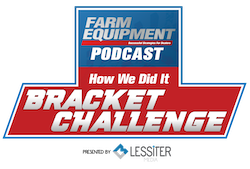 March Madness has hit Lessiter Media and we invite you to vote in the "How We Did It" Podcast Bracket Challenge. Sixteen episodes of the "How We Did It Podcast: Conversations with Ag Equipment's Entrepreneurs" face off in Farm Equipment's March Madness Bracket Challenge.
Let's rock the vote for the rural equipment manufacturers represented in the podcast series, including Art's Way Mfg., Danuser Machine Co., Thurston Mfg., Walker Mfg. and Worksaver.
Scroll and vote for your favorites week to week as we move through the tournament!