Toro's TimeCutter SS and TimeCutter MX zero-turn mowers help you get the job done fast. In fact, TimeCutter owners tell us they've cut their mowing time by an average of 45 percent versus their previous mower*. That means less time mowing and more time doing the things you want to do.


Advances in the 2014 TimeCutter lineup make this time-saving tool even more versatile and productive. Each new TimeCutter SS and MX mower will now come with a tow hitch. Adding this feature takes TimeCutters beyond mowing, giving owners the ability to tow a Brinly-Hardy cart, lawn sweeper, sprayer, aerator or dethatcher with the use of Toro's exclusive Tow Mode.

The key to the TimeCutter's superior mowing and towing is the innovative Smart Speed feature, which adds greater precision to the time-saving speed and maneuverability you've come to count on from the TimeCutter. Smart Speed lets you choose the best ground speed range to fit your mowing and towing needs: Mow & Go for speed and efficiency or Trim & Tow for precise trimming or towing attachments.

Each TimeCutter SS zero-turn mower is quick, dependable and comfortable, with features such as:
An automatic parking brake that automatically engages whenever the control arms are in the outward position
Heavy-duty 10-guage frames for superior durability
Powerful and dependable Toro, Kohler or Kawasaki engines
Engine guards, deck washout ports and foot assist height of cut adjustment (optional on some models)
Extra-tall seats on most models that make your time spent mowing more comfortable
Stepping up to a TimeCutter MX zero-turn mower brings the added strength and durability of a fabricated deck and heavy-duty transmissions. Additional hard working features include:
A height-of-cut foot assist pedal makes it easy to lift and lower the mowing deck
Powerful and dependable Kawasaki V-Twin engine
An hour meter makes keeping track of service times easier
Extra-tall seats with armrests make mowing more comfortable
Floor mat to dampen noise and vibration
Every TimeCutter SS and MX is backed by one of the best warranties you can find – Toro's three-year limited warranty** with no hour limitation.

Several new models can be found in the lineup this year featuring:
A new, fully featured TimeCutter with a 32" deck perfect for gates
A new 42" deck TimeCutter with a $2,299 suggested promotional price
A new Kawasaki-powered TimeCutter with a 42" deck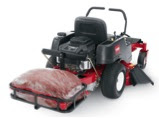 Toro will also be featuring the powerful new Kohler 7000 series v-twin engine on one of its models.  This engine has been made substantially more durable than its predecessor, made quieter, and includes intuitive, easy-access service points and is a perfect fit with the Toro TimeCutter zero-turn mower.
Toro also has two new accessories for the TimeCutter for 2014. The first is a step assist kit. It features a telescoping handle and a build-in step to help get on and off the mower. The second is a cargo carrier that attaches to the rear bumper of the TimeCutter. It allows you to haul up to 100 lbs of mulch, soil, garden tools or other objects around. Because it is mounted directly to the TimeCutter, you won't lose any of your zero-turn maneuverability.

Look for the full line of TimeCutter SS and MX zero-turn mowers at authorized Toro dealers and select The Home Depot stores this spring. Retail prices start as low as $2,299 suggested promotional price for a 42" TimeCutter. Or, buy online at www.torodealer.com or www.homedepot.com.  For more information, contact Toro toll free at 1-888-384-9939 or visit us on the web at www.toro.com/smartspeed.
** See your retailer for full warranty details.
Related Stories: