Sears, the iconic 132-year old department store chain that also gave us the Discover Card and Allstate Insurance, has officially crashed and burned, filing bankruptcy on Oct. 15.
An analysis in the Wall Street Journal highlighted several decisions by CEO Edward Lampert for the failure — several of which rural equipment dealers should also be watching. Here's an excerpt: "Instead of stuffing stores with goods, he cut back inventory to avoid markdowns…He scrapped newspaper circulars and television ads in favor of email marketing. And, rather than fixing up stores, some former executives said he let many get run down."
Here are some thoughts about how you can avoid the same mistakes.
Showing a Full Inventory
With inventory, perception is reality. Think full, current, neat and clean to convey yourself as the authority for the brands you carry. Even if there are times of the year when you might have limited inventory, find ways to still look like a complete solutions provider at first glance. It's like the "facing" practice that grocery stores follow, bringing items to the front of the shelf to make the shelves look full. The idea is not to deceive customers, but to make it crystal clear what they can buy from you.
Be Careful about Eliminating Marketing Tactics
Next up, marketing. Dealers face similar decisions about what tactics bring the most reward — and this is an ongoing challenge as digital marketing evolves. Patrick Sharpe, vice president of audience development for Lessiter Media, which publishes Rural Lifestyle Dealer, recently published a common-sense approach you may want to consider. Sharpe says, "Seems Mr. Lampert, in all his wisdom, misread the importance and impact that traditional marketing meant to their customers and business success. He made the classic mistake of trying to 'save his way' into increased market share by scaling back their traditional marketing programs in favor of cheaper, but less effective, email marketing only. It was a lethal decision."
Sharpe's review of Lessiter's own marketing spend shows that cutting out traditional marketing would miss 25% of our audience, the overlap shown in the following Venn diagram.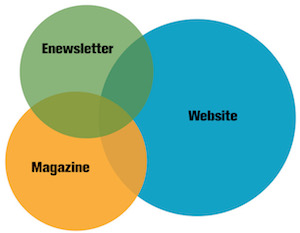 Sure, digital marketing techniques can be very effective and very cost- effective. However, that benefit is for you, not the customer. Before you eliminate any marketing outreach, consider how it would affect your customers. You can't expect them to find you; you have to find them.
Sharpe provides an excellent analysis in the following chart about the benefits of the various marketing channels.
Fixing Up Stores
Cosmetic fixes or updates can't wait until when you're less busy, next season, or after some other project is finished. Retail marketing expert Jennifer Robison offers some easy solutions in this podcast. Don't underestimate how simple changes, such as lighting and landscaping, can help the appearance of your store.
The first step is to stop coming in the back door, but enter your dealership lot and store like a customer does, says Robison. Do this at different times of the day and drive by after everything is closed up. Some necessary fixes that you see are most likely magnified in a customer's eyes.
Don't Outsmart Your Way to Failure
It's easy now to point out how Sears failed. However, some very smart people were at the helm. Perhaps they tried to outsmart their customers and customers got tired of trying to buy from them. Don't make the same mistake.